11" Baxter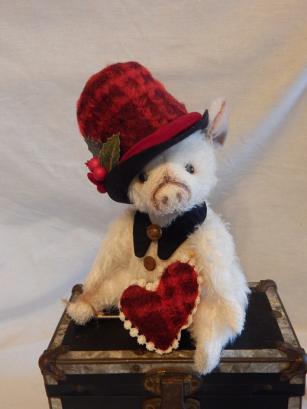 White mohair pig with red wool top hat and matching heart to give away to his true love. He wears black collar and old brass buttons. - $235
11" Canton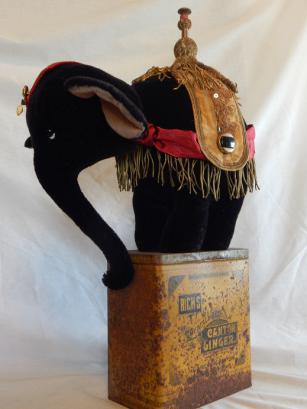 A majestic black mohair elephant stands atop an antique yellow tea tin adorned in old fabrics and older metallic tassels. - $275
11" Pumpkin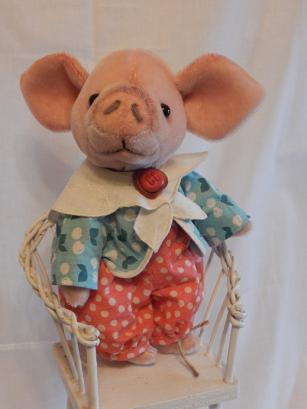 A baby pig wears orange polka dot rompers and turquoise jacket with vintage baby bib collar. Soft peach mohair. - $225
6 1/2" Onion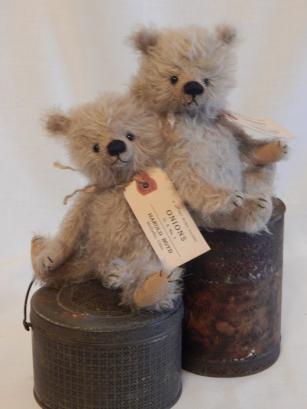 Stone mohair fully jointed bear, is adorned with a vintage Onion tag from McGuffy Ohio. Each sits on an old Worn black tin. - $200 each.
Teddy "B"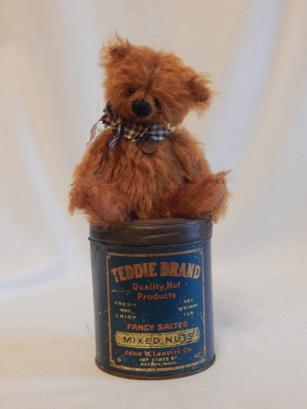 Vintage blue can of salted Teddy B nuts makes a perfect perch for this 7" rusty orange mohair bear with old taffeta ribbon and rusty metal tag. Fully jointed. - $210
13" Salmon Enchanted Evening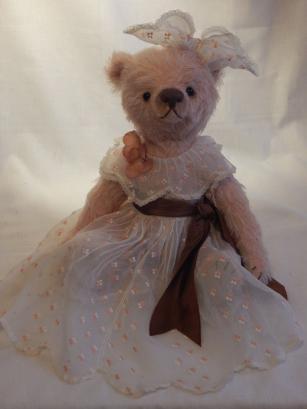 Pale peach mohair accent the embroidered vintage dress. Lace trimmed edging adds to the delight. - $265
12" Pork Queen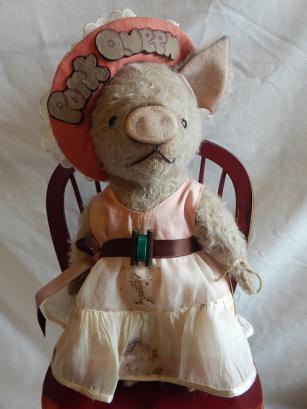 What more is there to say? Grey pig wears Vintage silk and cotton dress and lace trimmed hat. - $255
11" Rufus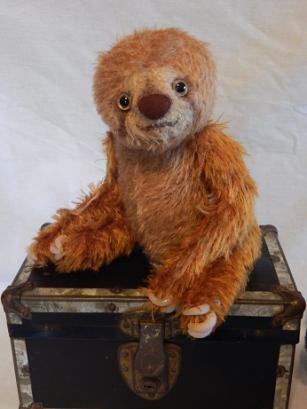 A baby sloth. - $230
10" BoBo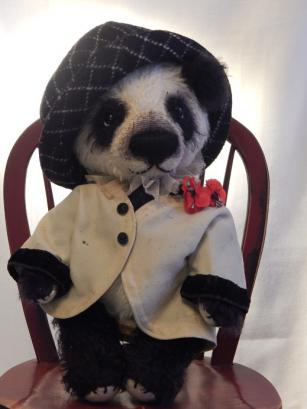 A panda in vintage Cream wool jacket with black velvet collar and cuffs. He wears a black wool hat And sports red poppies on his lapel. - $225
11" Yum Yum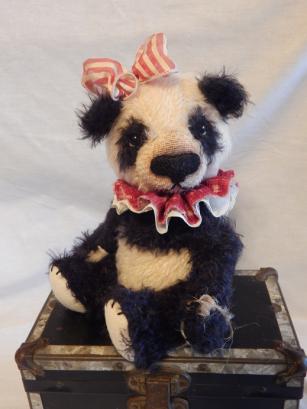 Black and cream mohair panda accented with red and cream ruff and bow. - $220
9" Petula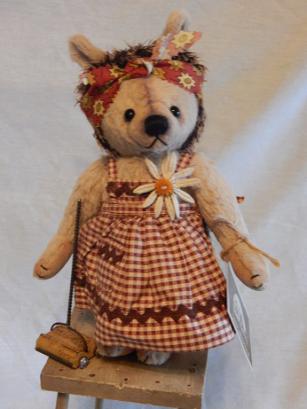 Same fabrics as Pierre but wears brown checkered apron and has an metal old SallyAnn sweeper. - $230
9" Quinn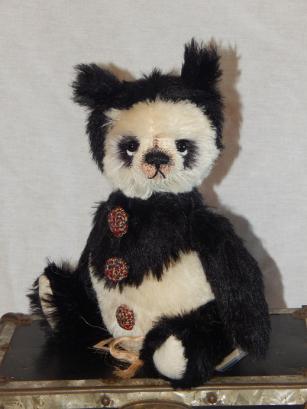 Black and cream panda who only needs buttons as a decoration! - $215
13" Patience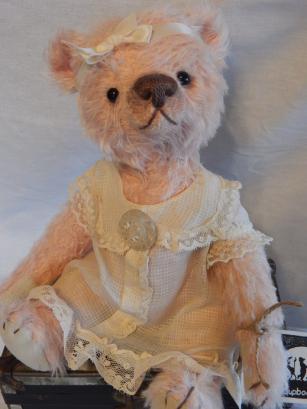 Is a pale pink bear in lace trimmed vintage dress with old buttons and silk hair bow. - $245
11" Honey Bun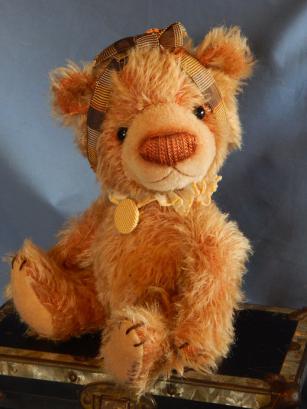 Honey colored mohair bear with contrasting muzzle and two tone brown stitched nose wears vintage ruffled collar and plaid hair bow. - $220
12" Born on the 4th of July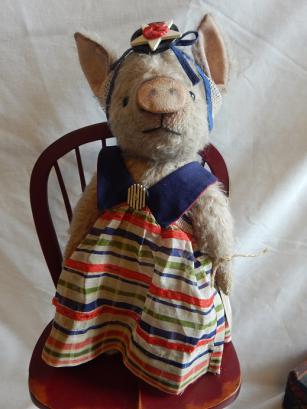 Pale grey pig wears vintage voile dress in red, cream and blue to light up your summer season. - $255
11" Pudge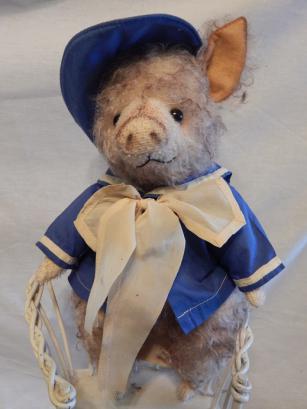 This little pig is ready for the market in his vintage blue jacket and hat and over sized bow. He's made of cream mohair with light brown tip. - $235
10" Blue Moon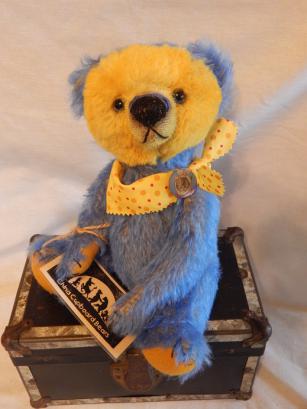 Made of blue mohair with yellow backing and inset face of yellow alpaca. Polka dot neckerchief and button detail. - $225
10" Ranunculus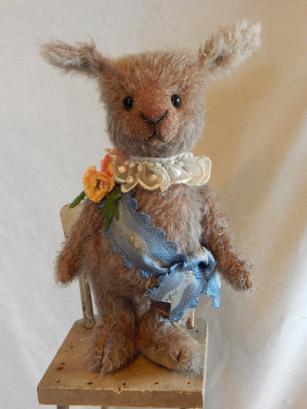 Grey mohair rabbit wears blue sash with yellow floral trim. - $220
9" Plato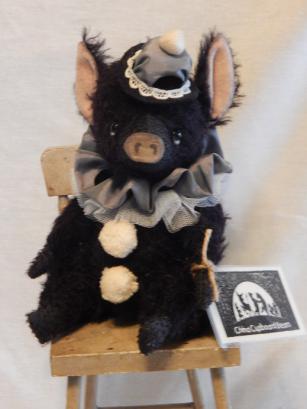 The little brother pig wears double ruff of grey taffeta and netting. Tiny hat adorns his head. - $220
9" Pumpkin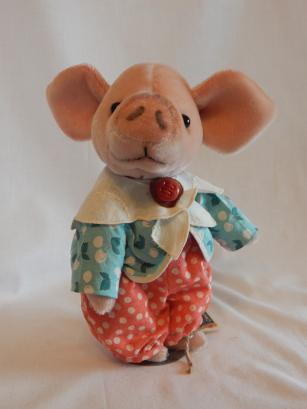 The baby pig with chunky body and oversized head and ears. Bright pants and jacket make for a happy baby with vintage bib collar. - $225
The Mother and Child reunion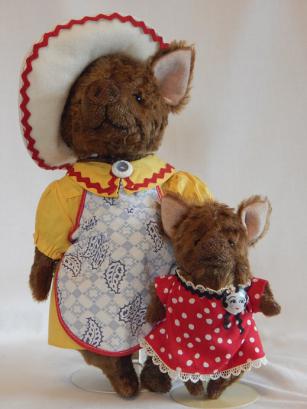 Pigs have been a favorite part of my repertoire ,influenced by children's books of the 1920's. This pair pays homage to Mothers Day. Specifically my grand mother and mother. 12" Helen and 7" Dorothy Ann are made of milk chocolate brown mohair , jointed with German glass eyes and dressed in happy colors of yellow and red polka dot dresses. All vintage clothing and hat. - $355 the set
9" Gertrude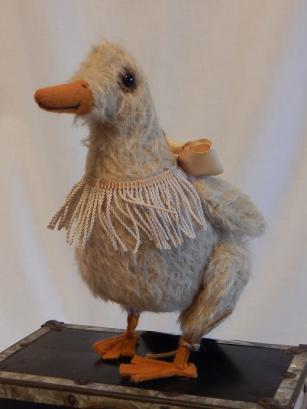 Is a soft yellow mohair bird, jointed legs and wings. Detailed with old fringe and taffeta ribbon. Orange felt Pigeon toed legs and beak. - $215
4 1/2" Poppet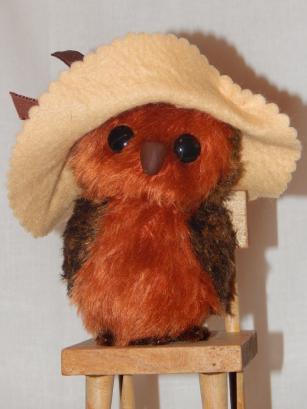 An Owl made of rust and brown tweedy mohair , jointed head And adorable felt hat for character. - $50
8" Mary Mary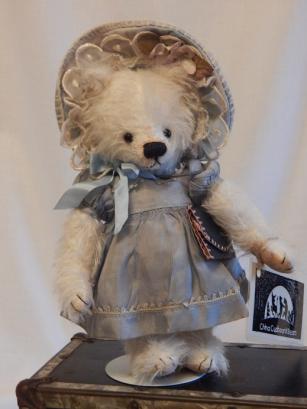 Called that for her tiny handmade purse of Mother Mary Medallions, someone's heart felt prayers. Dressed in a soft worn taffeta dress and blue bonnet she is a darling sister to Charlotte Russe. Cream mohair and fully jointed. - $210
Doll house trunk 21" x 21"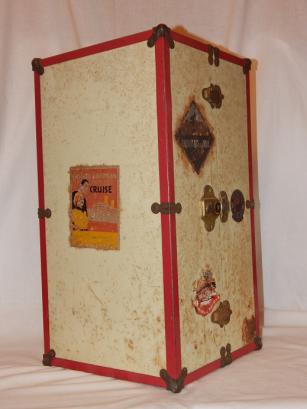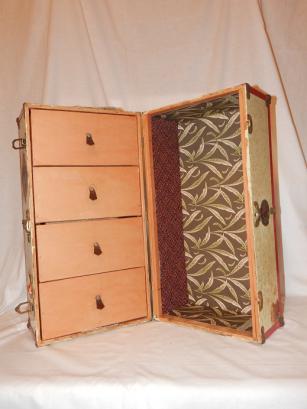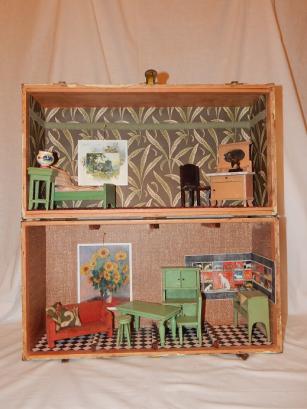 I can hardly resist an old trunk especially with original paper , drawers, and interesting Travel decals on the outside. But what to do with it? I have a host of wonderful wooden dollhouse furniture. Why not marry the two? The furniture stores in the drawers for quick pack up. I have included some pieces of art to enhance the walls and made pillows for the couch as well as mattress and pillow for the bed. What a wonderful place for tiny bears, vintage dolls , or even a mouse house. Perhaps it could change with the seasons and begs to be added to. - $155
11" Hope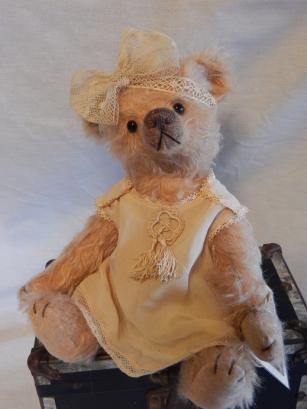 Peach sister bear to Charity wears antique silk lace trimmed dress and lace bow. - $230
16" Charity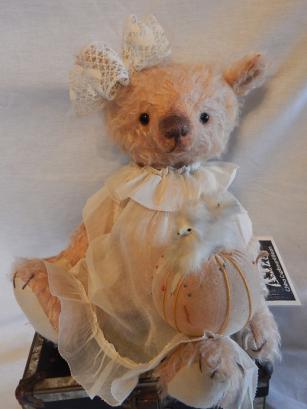 Peach mohair bear wears antique cream voile dress with lace bow and velveteen pincushion with fur dog. - $255
9" Reba and Freckles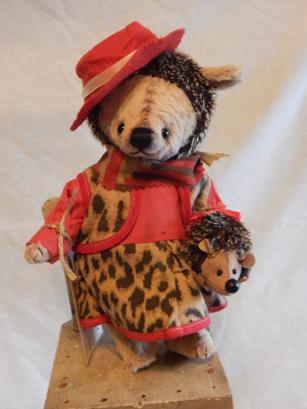 Tiny hedgehog girl in old outfit with her hedgehog pet. - $230
9" Pity Pal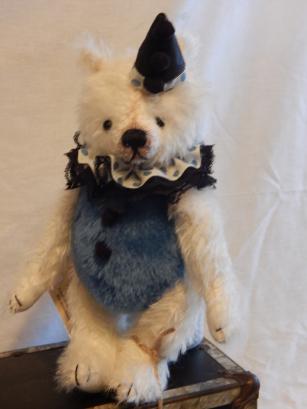 Cream mohair bear with robins egg blue body wears polka dot ruff and pointy hat. - $220
8" Pansy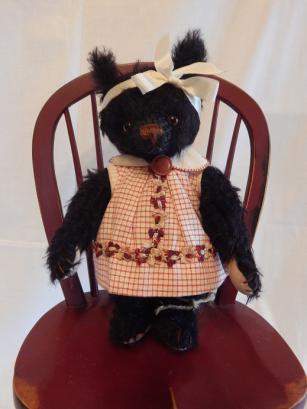 The black mohair bear is such a petite size in a tiny check dress with floral trim and embroidered collar. - $225
9" Pansy
A delight to hold in the palm of your hand. Weighted body with brown melt your heart glass eyes and tiny rust nose. I can't resist vintage costumes of this quality and detail. Such a nice compliment to her black sparse mohair. - $225
11" Charlotte Russe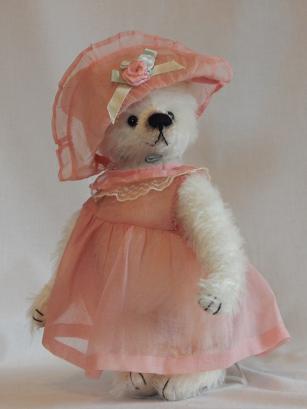 Frothy and Feminine as the confection she is named for , Miss Charlotte wears a vintage pink voile hat and dress with just a touch of lace. Cream mohair bear with black German glass eyes. - $245
9" Clara Bridewerer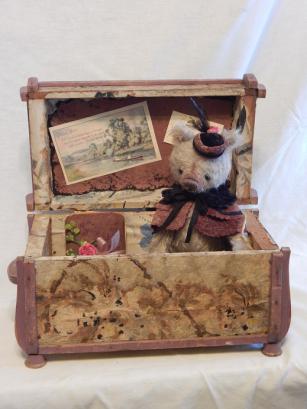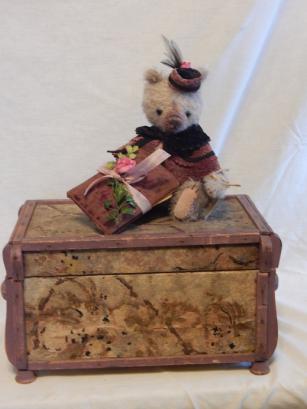 Is a dove grey bear who wears a cloak and hat of vintage mauve fabrics. Both are trimmed in a fine black braid and the hat features feathers. She resides at 1 Folk Art Row in an old and interesting wooden trunk. The trunk is covered in Civil War era wallpaper in cream, mauve and dark grey and the edges handles and legs are painted in soft mauve. The trunk opens to reveal floral wallpaper with a deep mauve lid. Also inside is an old postcard and calling card. Claras name is found in the small velveteen autograph album dated 1892. - $300
10" Baby Pi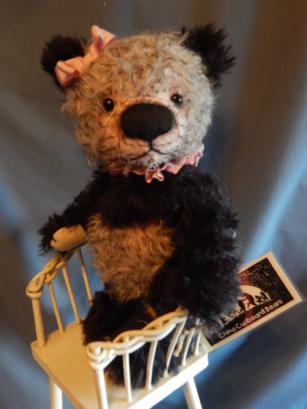 Solid black mohair accents the pink and tweed mohair Panda baby. - $230
14" Tall Brutus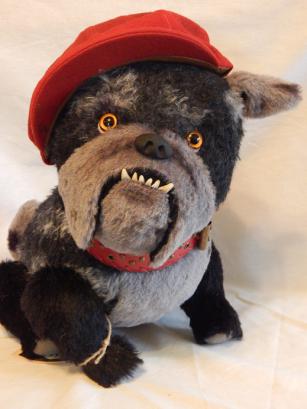 Black and grey mohair bulldog has sculpted teeth and wears an old red collar and vintage red wool hat. Go Buckeyes!. - $425
6 1/2" Delta Dawn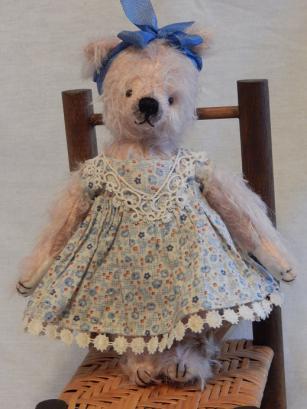 Soft pink mohair bear wears old floral dress with lace details. - $165
13" Mistoffolees The Cat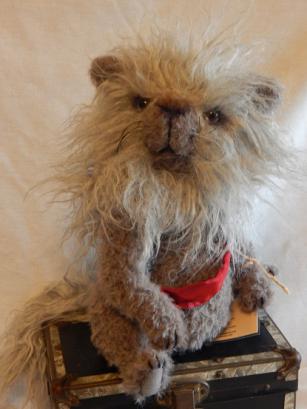 Is having a crazy hair day. Grey Viscose and alpaca with red ribbon sash. Wired tail. - $265
13" Rhinestone Cowboy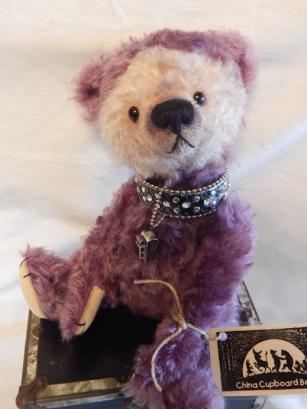 Wears black collar with rhinestones and pendent. Made of grape mohair and inset cream face. - $235
6" Wave Burson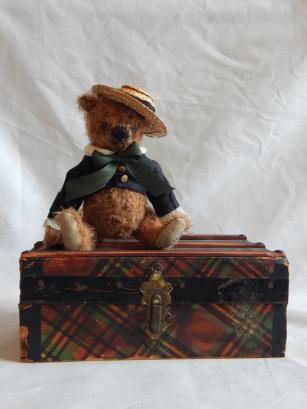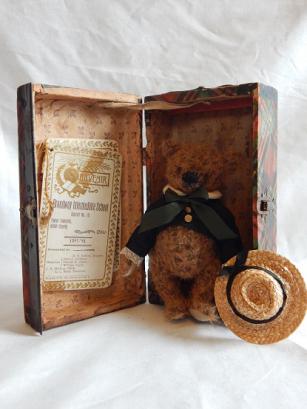 Resides in a vintage trunk with original paper in and out. Souvenir report card from 1897-1898 lists his name. Rust matted mohair bear wears black vintage styled jacket with tiny old brass buttons and straw hat. - $225
13" Rogue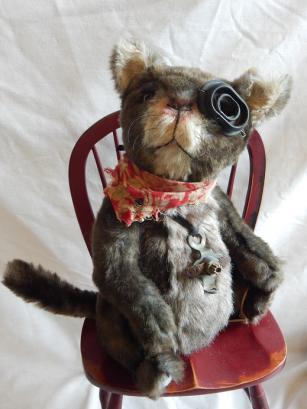 The grey and stone tough guy cat seems to say he doesn't give a hoot, to put it politely. - $265
9" LuLu Belle and Ivy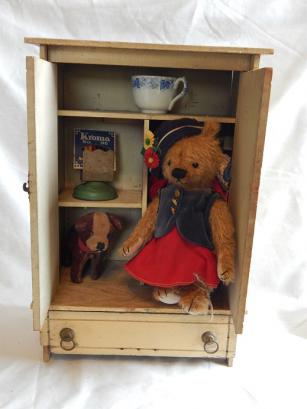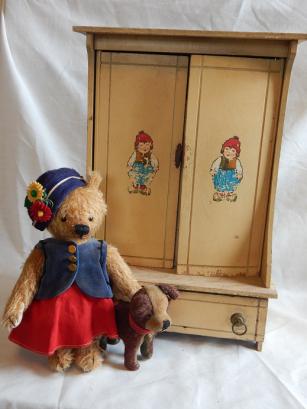 Resides in this butter yellow antique cupboard with built in shelves and drawer. LuLu Belle is a wheat colored mohair bear who wears a vintage skit and vest with hat to coordinate with the art on the cupboard doors. Vintage dress in a child's print and a red crocheted cape fill the wardrobe along with Ivy the antique straw stuffed dog and several props. - $300
10" Grace Anne
This innocent little girl bear is made of tan mohair and wears a soft yellow dress with tiny black velvet ribbon accent and antique bow in her hair. - $245
9" Zoey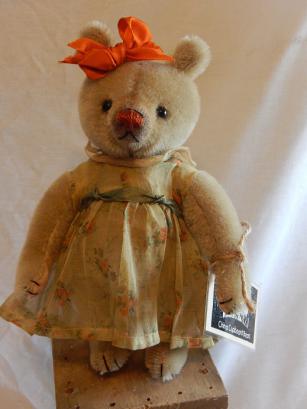 Sage green mohair bear with rust nose for contrast wears old pale yellow voile floral dress. - $220
13" Lord Fezziwig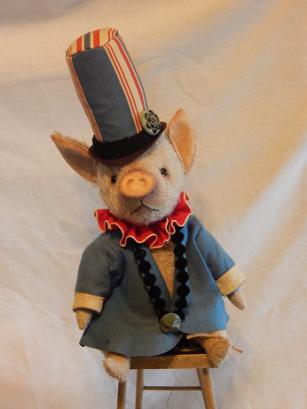 Stone mohair pig wears vintage blue felt jacket , red neck ruff and stove pipe hat of vintage fabrics. - $255
Sweet Edward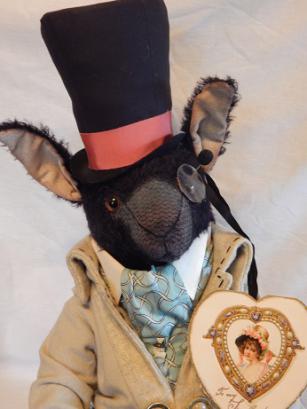 Is a 22" black mohair rabbit, with brown German glass eyes and wired ears. He wears a Regency styled wool jacket with black embroidery and buttons at waist. Old starched collar is accented with silk ascot and an antique ivory Mercury Head stick pin. He sports an old monocle with ribbon and top hat with rose band. Edward arrives with his presentation pop up Victorian Valentine. - $455
9" Leporoptodist Bombyx Mori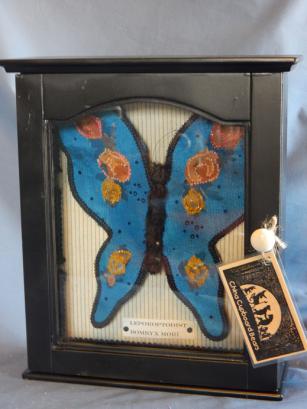 The silk butterfly, taxidermist style using old silk fabrics. In black case with glass door. - $95
13" Rosy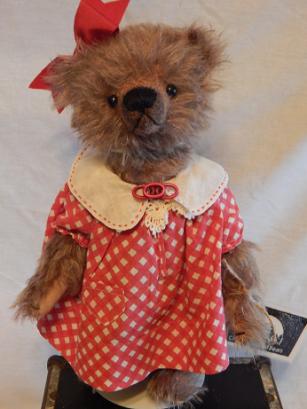 Tweedy taupe mohair bear wears vintage 1930's pink plaid dress with white collar and Bakelite button. - $230
9" Princess P.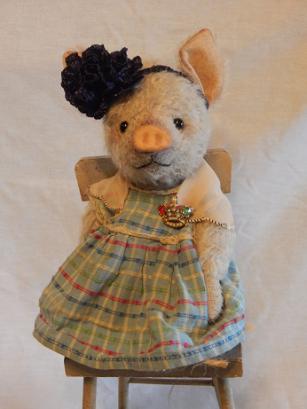 This stone mohair pig wears a sparkly jeweled crown on her old dress. - $215
9" Pearl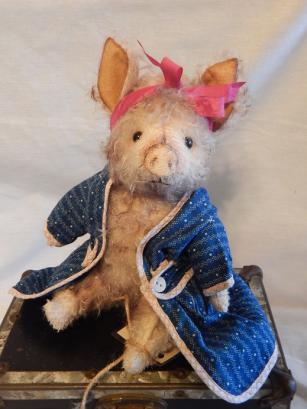 This little sister pig to Pudge stayed home in her vintage blue robe with pink trim. Old rose ribbon hair bow and the same mohair as Pudge. - $225
10" Lovey and Lucky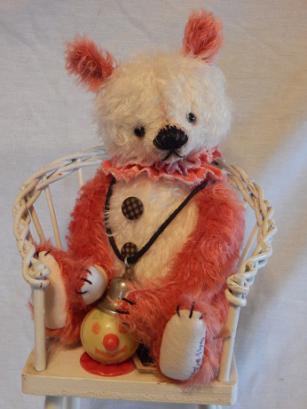 Cream and punch mohair are a bright combination in this little bear.celluloid toy. - $225
9" Tulip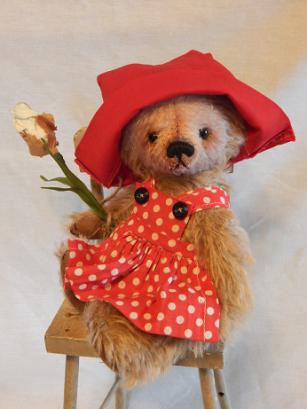 A tan mohair bear wears red polka dot apron and red bonnet with a spring tulip. - $215
13" Spanky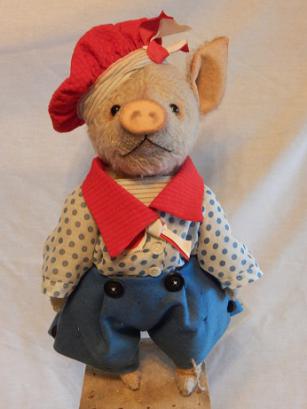 The stone mohair pig wears vintage blue felt buttoned shorts, polka dot shirt and red collar and hat. - $255
9" Lovey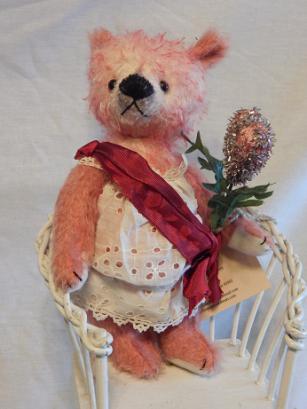 Peppermint tipped mohair bear wears lacy slip with red sash and sparkly heart. - $205
8" Mr Einco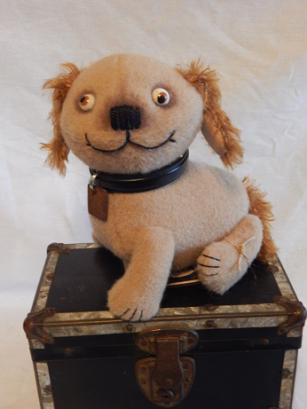 Is a googley eyed character dog made of cashmere and mohair. - $225
14" Lolita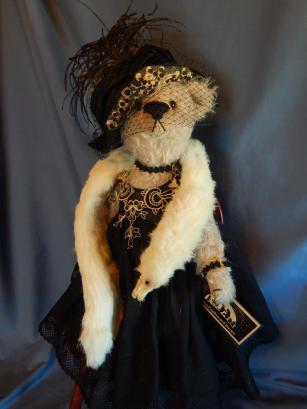 A swanky bear in black dress embellished with old lace and beading and a fabulous hat. - $295
7" Let it Snow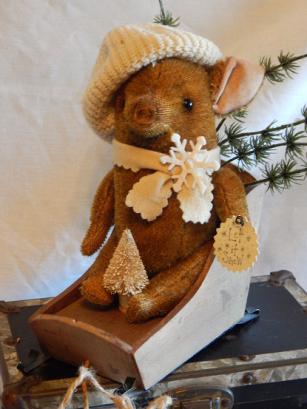 Antique gold mohair pig wears cream wool beret and scarf in tiny wooden sleigh. - $195
10" Liam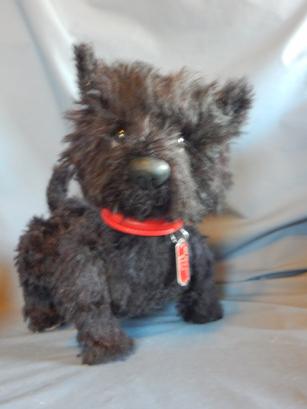 Three different lengths of black mohair makes this Cairn Terrier look true to breed. See his Westie sister Lily Belle. - $325
Bobby McGee 9"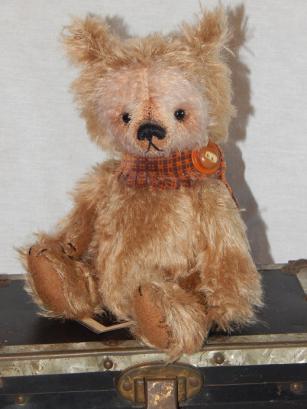 Tan and cream bear with plaid orange neckerchief with button. - $215
11" Baxter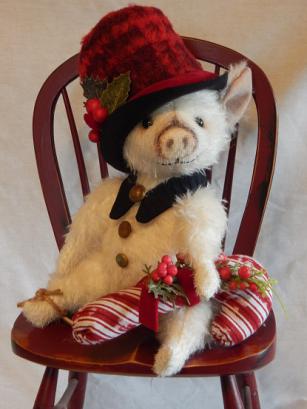 Is a fully jointed white mohair pig who wears tall black and red hat. Black collar and holds a stripped candy cane. - $230
24" Tuppance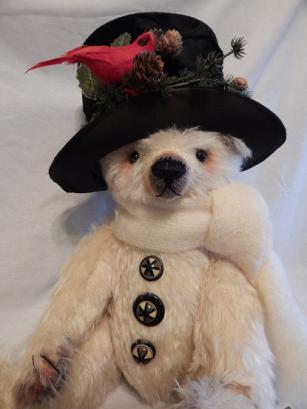 Is a grand cream mohair bear detailed with black cracked oilskin paw pads ,wears the "real deal" aged black silk top hat complete with red cardinal and holly and Scottish cream wool scarf. Interesting buttons are the only embellishment. - $395
8" Tweedle Dee and Tweedle Dum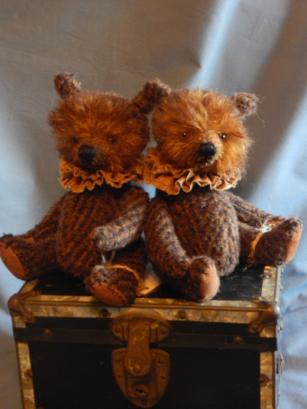 Tweed wool bears with mohair faces and collars. - $195 each
11" Yum Yum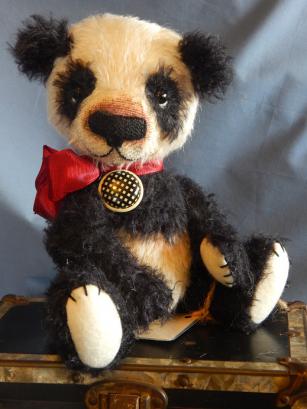 Black and cream mohair panda sports red wired ribbon bow and old black and cream plaid celluloid button. - $220
9" Leopold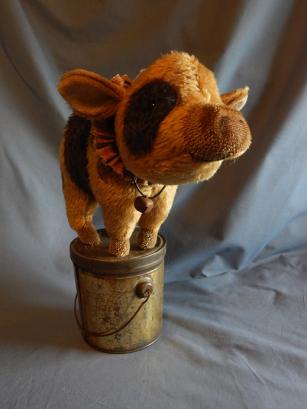 Black and Tan standing pig on old gold Lard bucket with rusty bell trim. - $265
8" Glow Worm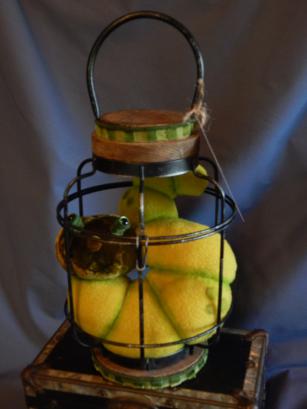 Velveteen and plush worm inside a wire lantern. - $155
11" Peppermint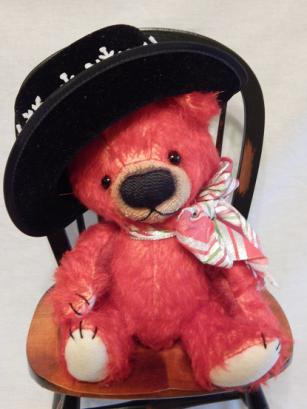 Bright red mohair cub wears oversized black hat banded with snowflakes and stripped holiday bow at neck. - $225
16" Pierre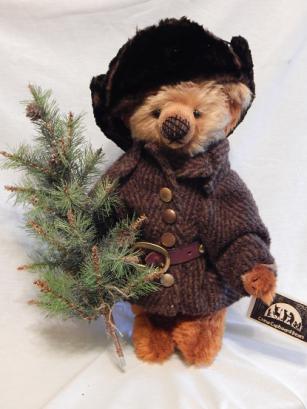 A North Woodsman of a bear wearing a wool coat belted with brass studded leather. Real fur hat has ear flaps tied on top. He carries the tree he went to the woods for. - $295
11" Anne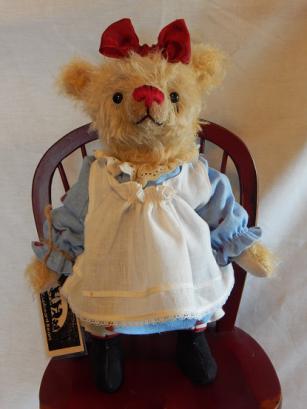 Raggedy stripped legs and shoes, full pantaloons, blue dress with lace collar, apron and red hair bow. - $230
13" Evaline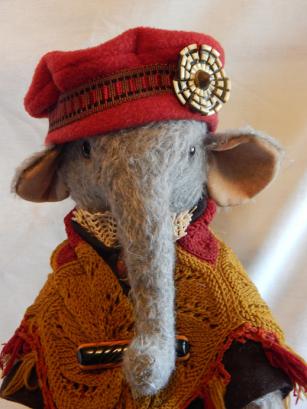 Grey MohairEllie wears charcoal grey wool coat and red beret. Tiny antique shawl in reds and gold are held together with Bakelite bar pin. - $230
8" Heidi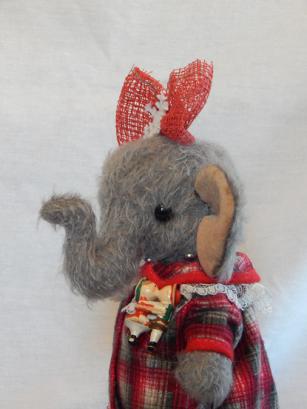 Grey mohair Ellie wears plaid coat in reds and greys. Red hair bow and Christmas stocking. - $215
12" Hitching a Ride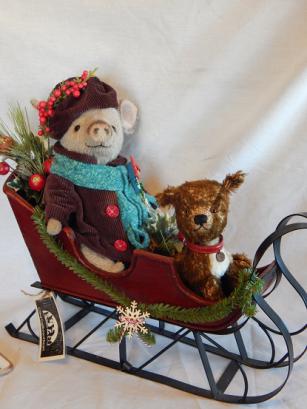 Stone mohair pig wears maroon coat and hat along with his pal Rufus in wooden sleigh with festive trim. - $350
20" Rose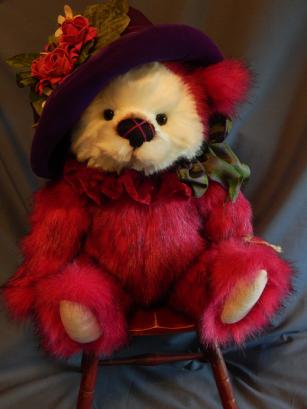 Fuschia pink Tissavel bear with a black tip is off set by an cream face. A purple vintage velveteen hat is detailed with old roses and a velveteen ruff pulls the colors together. - $255
8" Tweedle Dee and Tweedle Dum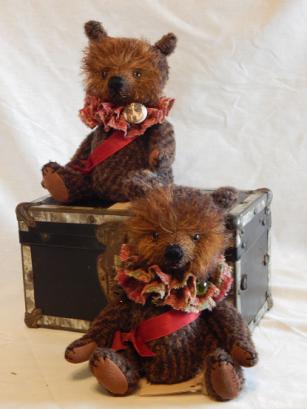 Brown wool bears with inset mohair faces and brown glass eyes are adorned with ruffs and sashes. - $155
7" How much is that Doggie in the Window?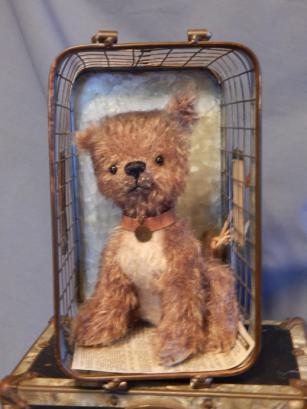 Darling dog wears leather collar and hopes for his forever home. Wire cage. - $220
11" His Majesty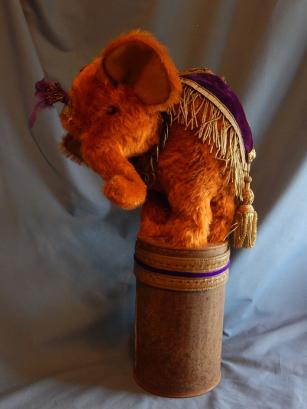 Burnt orange mohair elephant stands on a 9" old sap bucket wearing deep purple vestments dripping in vintage gold fringe. - $295
11" Wee Willie Winkie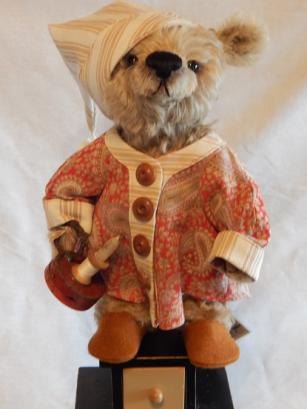 Just like the nursery rhyme this tan teddy wears night shirt and candle on a clever set of wooden drawers. - $245
12" Long Tootsie Roll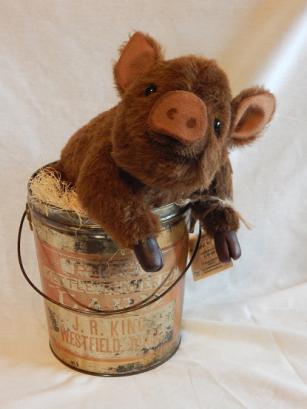 Is a piglet made of dense brown alpaca, fully jointed with sculpted feet and double jointed neck. The endearing expression says it all. He arrives in his vintage Lard Tin. - $295
15" Mellow Yellow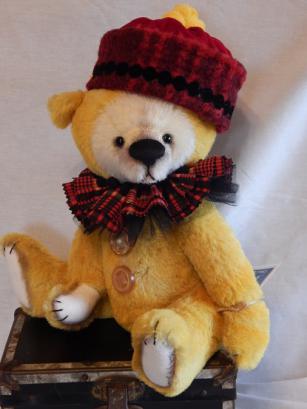 Canary yellow alpaca bear is punctuated with red ruff and hat. Inset face is cream mohair. - $255
4" Frost On The Pumpkin
Frost is a tiny grey owl in a pumpkin arrangement inside a brown wicker cornucopia. - $65
10" Berta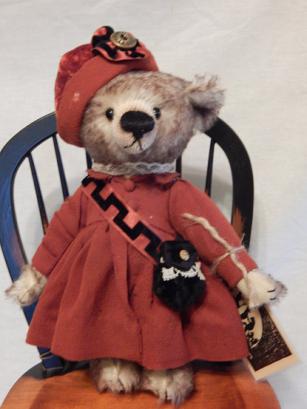 Is a tiny cream mohair tipped brown bear and wears an old rust colored fitted coat with matching hat. Velvet purse is suspended from Interesting velveteen sash. - $245
9" Plum Pudding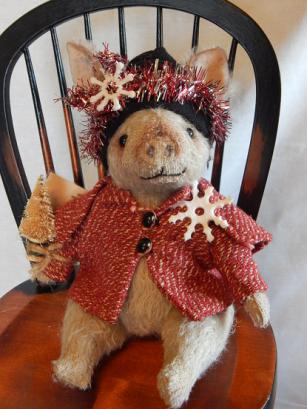 Stone mohair pig wears vintage tweed jacket and black hat with a tiny tree to hold. - $225
16" Billy and Chilly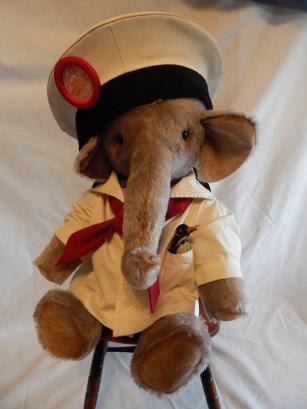 Grey mohair elephant boy wears vintage white sailorBlouse with stripped dickie and red tie. Vintage white sailor hat perches on his head while Chilly the penguin peeks out of his pocket. - $265
11" Hadrian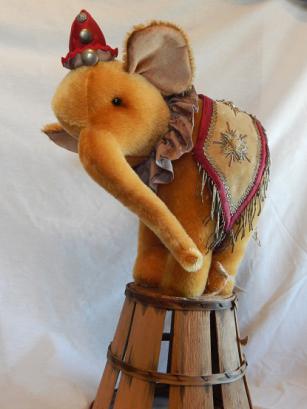 Warm gold mohair elephant stands atop an old basket surveying his domain ,decked out in vintage fringed uniform sash. - $295
16" Phineas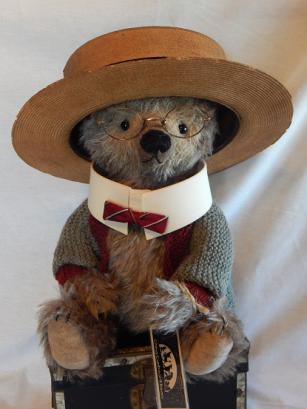 This grey old man of a bear wears his comfy sweater , vintage straw hat , wired rimmed glasses, old collar and bow tie. - $265
14" Santa Claus is Coming to Town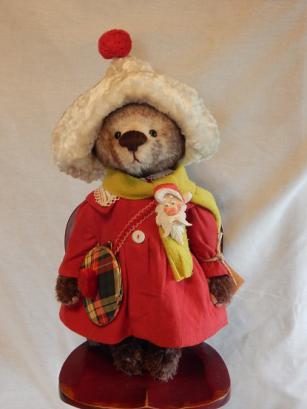 Teddy girl of cream mohair with brown tips wears red coat with pointy winter hat and plaid purse. Wonderful hand carved Santa face adorns her coat. - $265
8" Funky Chicken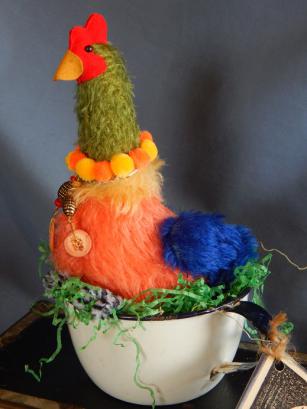 Multi colored mohair chicken is jointed and sports some funky details.Vintage cup. - $125
8" Blue Boy and friend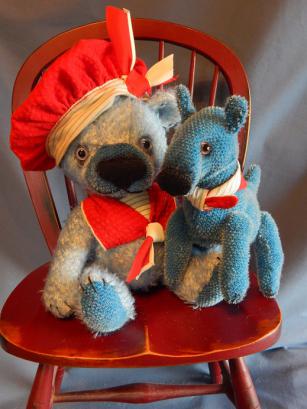 Sparse blue mohair bear is accented with darker blue muzzle and paw pads. Red sailor collar and hat. - $225
16" Selwyn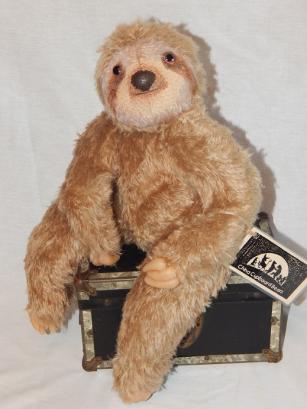 Tan and cream mohair sloth is fully jointed and wired arms and legs and sculpted claws. - $295
9" Sally B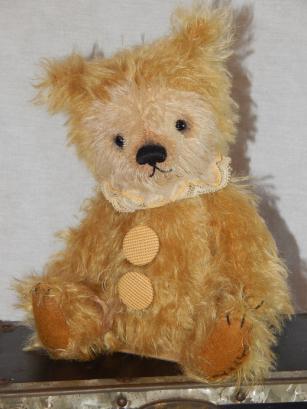 Yellow blond mohair bear with cream face wears tiny ruffle and bold buttons. - $215
6" A and P Tin Tin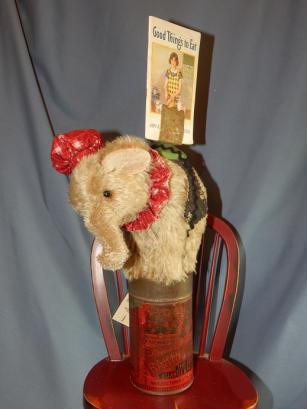 This tiny mohair elephant rides atop an old baking powder tin with recipe book holder and baking hat. - $215
12" Eulalie Shinn & 6" Eustis Shinn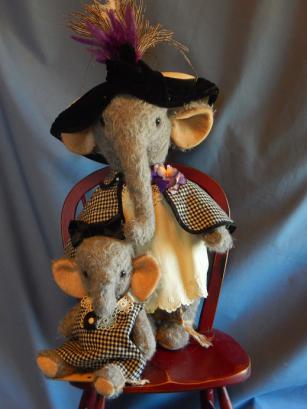 Eulalie, is a grey mohair elephant resplendent in cream dress and black check cape, Cream vintage hat and purple accents. Eustis, small grey elephant wears a vintage check dress and bow. - $245
16" The Cadet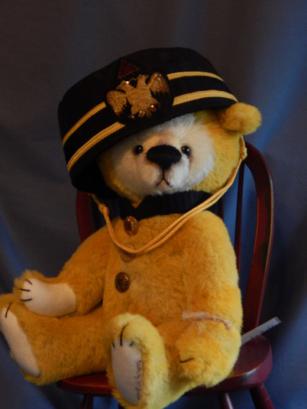 Gold alpaca bear with an inset of cream mohair for the face is accented with a vintage black military hat and insignia. - $245
14" Romona Bee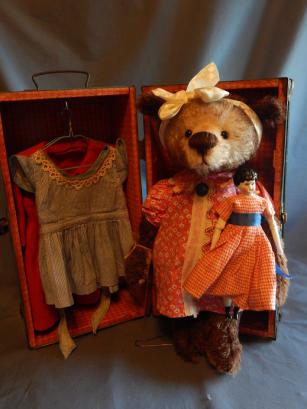 Brown tipped cream mohair bear with cream mohair inset face wears vintage cotton dress and arrives in her old doll trunk along with old coat and pinafore as well as a small China head friend. - $295
9" Margaret Watkins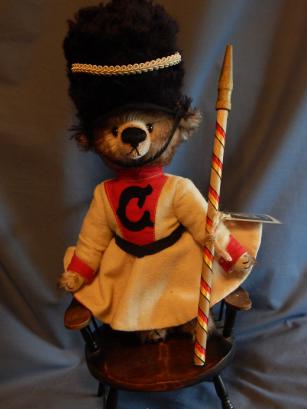 Mohair bear with vintage cream wool band uniform and black fur Shako hat.. - $230
20" Bittersweet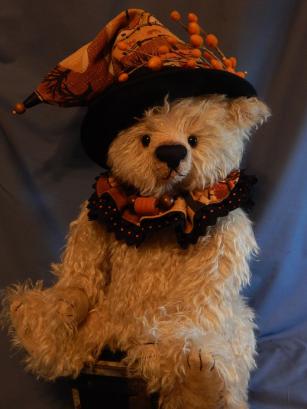 Dense stone mohair bear wears hat of vintage fabric in seasonal colors with bittersweet accent. Double ruff of black with orange polka dots and vintage cloth. Old beads. - $355
16" Gambet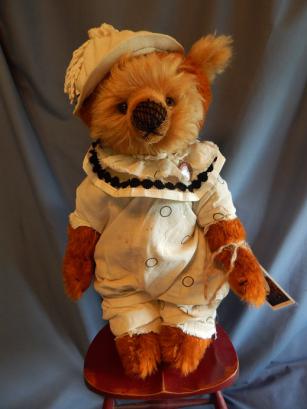 Burnt orange and cream mohair bear in vintage 1940's costume with ruff and fringed hat. - $265
8" October Pig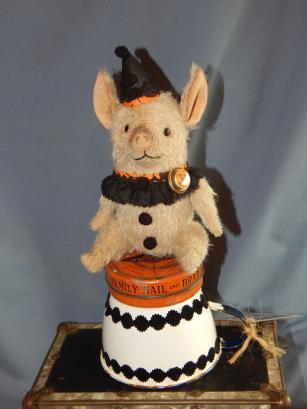 Stone mohair with black hat and ruff sits on vintage tin. - $220
Baby Alice 12"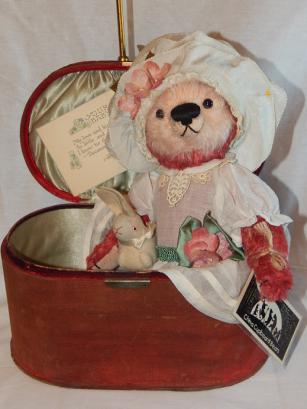 Rose and pink mohair bear nestled in vintage silk lined antique box wears lace trimmed pale turquoise dress and bonnet with old Japanese rabbit. - $265
5" Tomasina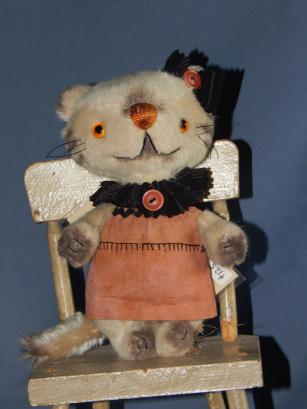 Tiny kitty with a whispered face and wired tail in vintage dress. - $125
Glow Worm 8"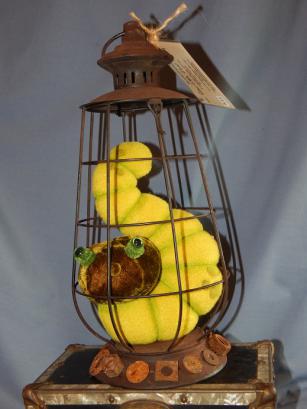 Velveteen and fiber worm glows Inside an old rusty lantern. - $155
5" Spider Bat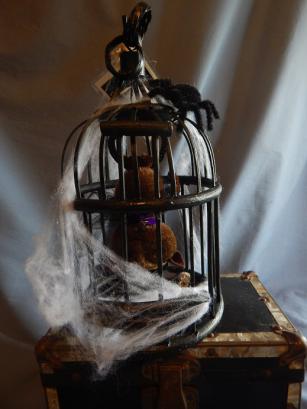 Mohair bat with German glass eyes dangles inside his wooden cobwebbed cage with spider friend. - $145